Los famosos fallecidos en 2017 se reúnen en este póster que recuerda a los Beatles
Más de medio centenar de artistas que han muerto desde enero, colocados como en la portada de 'Sgt. Pepper's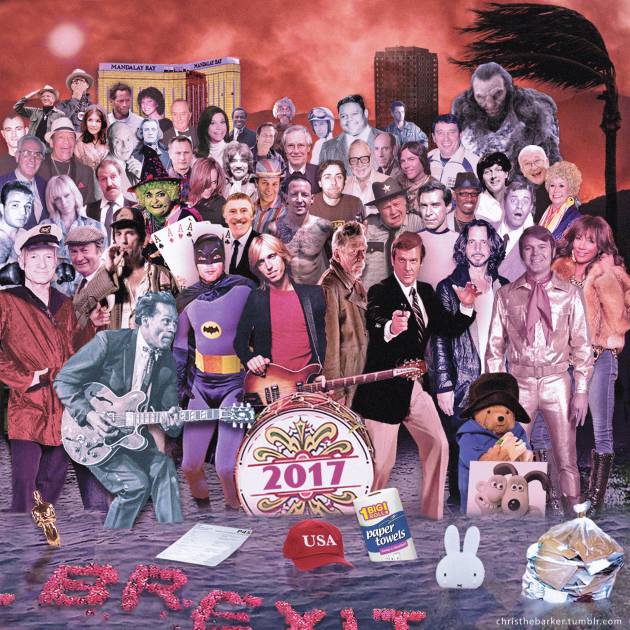 2017 se ha llevado a Roger Moore, Adam West, Chuck Berry o Jerry Lewis. Son cuatro de las 55 personas famosas que posan en el póster que abre este artículo. Es una versión de la icónica portada del disco de los Beatles Sgt. Pepper's Lonely Hearts Club Band. Es normal que te resulte familiar. El año pasado ya circuló un montaje similar con los muertos famosos de 2016. Entonces estaban Alan Rickman, Prince, David Bowie, Muhammad Ali o Johan Cruyff.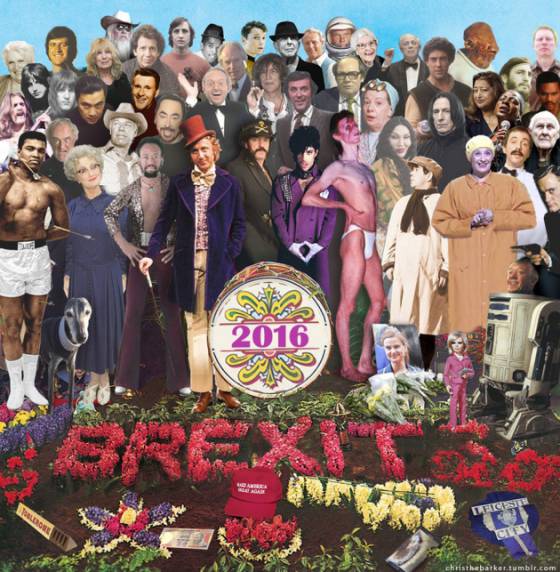 Tanto el póster de 2017 como el de 2016 han sido creados por Chris Barker, un diseñador gráfico londinense de 40 años. "Sería horrible comparar el nivel de popularidad de los famosos de cada año, pero es innegable que el año pasado perdimos a un número desproporcionado de personas que cambiaron el mundo. 2017 no podía competir con aquello", dice Barker a Verne por correo electrónico.
Sí, puede que no sea muy elegante comparar la fama de los muertos de cada año, pero el artista no anda desencaminado. "Mucha gente dice que los que salen este año son de serie B, algo que yo nunca diría. Aunque ya lo he dicho", añade Barker. Al final del artículo hay una lista con todos los nombres de las personas que aparecen en el póster de 2017, que el artista compartió en Twitter el 6 de noviembre y del que se han eco varios medios de comunicación.
Barker, que también habló con Verne tras su póster de 2016, dijo que no repetiría en 2017. "Cambié de opinión porque temía que lo hiciese otra persona. Me puse manos a la obra, pero con la intención de contar otra historia". Los famosos de su imagen posan con el agua hasta las rodillas y un viento huracanado de fondo: "Quiero que la gente se pare a pensar en las catástrofes de este año y el terrible efecto del cambio climático".
También incluye una gorra de Trump ("¿por qué no le han hecho dimitir todavía?"), un Oscar hundiéndose ("por el caso Weinstein"), el hotel desde el que se produjo la matanza de Las Vegas y la torre de viviendas que ardió en Reino Unido ("esas muertes se podían haber evitado"). Y flotando sobre el agua, el Brexit: "Ahí está, descomponiéndose y apenas reconocible ".
La imagen de este año no ha captado tanta atención como la de 2016. "Ya me han dicho que me he olvidado de añadir a Charles Bradley. Puede que haga una actualización. Llevo una lista de las últimas muertes, desde Nelsan Ellis a Chiquito de la Calzada", añade. De ahí que le preguntemos si ha publicado la imagen demasiado pronto: "No. Nadie más va a morir", ironiza.
En 2016, @The8BitMonkey elaboró una leyenda con la que resultaba muy fácil descubrir la identidad de cada personajes del póster. De momento no hay nada parecido para el de 2017, pero Barker nos ha facilitado una lista. La mayoría son actores británicos o estadounidenses. Pincha en los enlaces para identificar a cada personaje. Por cierto, al final del artículo te contamos algunas curiosidades sobre la portada del disco de los Beatles. Tiene mucha historia.
Robert Miles (DJ)
William Christopher (actor estadounidense de la serie MASH)
Gord Downie (cantante canadiense)
Ugo Ehiogu (exfutbolista y entrenador inglés)
Erin Moran (actriz de Días felices y Vacaciones en el mar)
Robert Hardy (actor británico que interpretó a Cornelius Fudge en Harry Potter)
Mary Tyler Moore (actriz estadounidense)
Robert Guillaume (actor estadounidense, protagonista de Enredo y Benson)
Bill Paxton (actor estadounidense que apareció en Titanic o Terminator)
Geoffrey Bayldon (actor británico)
John Surtees (piloto británico, el único que ganó el mundial de Formula 1 y de motociclismo)
Fats Domino (cantante y pianista estadounidense)
Sam Shepard (dramaturgo estadounidense, Pulitzer en 1979 por El niño enterrado)
Graham Taylor (exseleccionador de fútbol inglés)
Neil Fingleton (jugador de baloncesto inglés e intérprete de Mag, gigante de Juego de tronos)
William G Stewart (presentador de televisión británico)
Al Jarreau (cantante estadounidense de jazz fusión)
Deborah Watling (actriz británica, Victoria de Doctor Who en 1960)
Don Rickles (cómico estadounidense, intérprete en Casino y voz de Mr. Potato en Toy Story)
Trevor Martin (actor británico)
Michael Nyqvist (actor sueco, protagonista de Millenium)
Peter Sarstedt (cantante británico)
Barry Norman (crítico cinematográfico británico)
George A. Romero (director de cine estadounidense, entre otras de la película La noche de los muertos vivientes)
Miguel Ferrer (actor estadounidense, RoboCop y NCSI: Los Ángeles)
Richard Hatch (actor estadounidense, Battlestar Galactica)
Jake LaMotta (boxeador estadounidense que inspiró Toro salvaje)
Anita Pallenberg (modelo y actriz italiana, conocida como la Rolling Stone femenina)
Gorden Kaye (actor británico, protagonista de Allo, Allo!)
Carol Lee Scott (actriz británica)
Tara Palmer-Tomkinson (ahijada de Carlos de Inglaterra)
Bruce Forsyth (presentador de televisión británico)
Chester Bennington (músico estadounidense, cantante de Linkin Park)
Sean Hughes (cómico británico)
Clifton James (actor estadounidense, sheriff Pepper en las películas de James Bond)
Martin Landau (actor estadounidense, ganador del Oscar por Ed Wood)
Charlie Murphy (humorista estadounidense y hermano de Eddie Murphy)
John Noakes (presentador de televisión británico)
Jerry Lewis (cómico estadounidense, El rey de la comedia)
Roy Barraclough (actor británico)
Liz Dawn (actriz británica)
Hugh Hefner (editor estadounidense, fundador de Playboy)
Peter Sallis (actor británico)
Harry Dean Stanton (actor estadounidense, protagonista de Paris, Texas)
Chuck Berry (músico estadounidesne, pionero del rock and roll)
Adam West (actor estadounidense, el primer Batman de la televisión)
Tom Petty (músico estadounidense)
John Hurt (actor británico, protagonista de El hombre elefante)
Roger Moore (actor británico, James Bond de 1973 a 1985)
Chris Cornell (músico estadounidense, líder de Soundgarden)
Glen Campbell (cantante estadounidense country)
Joni Sledge (vocalista estadounidense del grupo Sister Sledge)
Michael Bond (escritor británico, creador del Oso Paddington)
Dick Bruna (dibujante holandés, creador de la conejita Miffy)
Gustav Metzger (artista alemán)
La historia detrás de la portada de 'Sgt. Pepper's Lonely Hearts Club Band'
HÉCTOR LLANOS MARTÍNEZ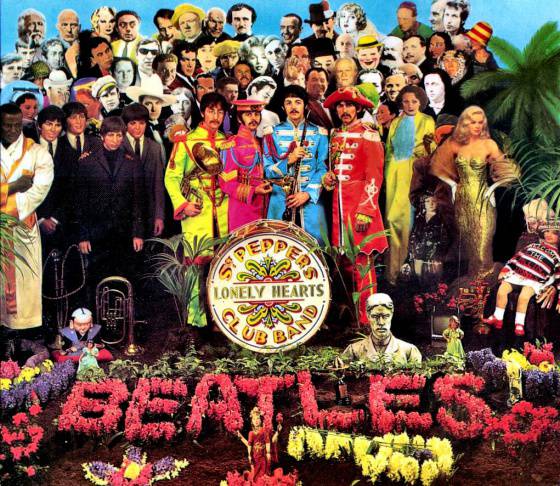 Para cualquier persona dedicada al diseño de forma profesional como Chris Barker, la portada de Sgt. Pepper's Lonely Hearts Club Band (1967) es uno de los clásicos básicos, reproducido en infinidad de ocasiones. El conocido artista pop Peter Blake y Jann Haworth fueron sus creadores. Rodearon a los Beatles de personalidades y celebridades de todo tipo; desde Edgar Allan Poe y Oscar Wilde a Bob Dylan y Marilyn Monroe. Llegaron a ganar un Grammy con esta propuesta, que ilustraba canciones como With a Little Help from My Friends y Lucy in the Sky with Diamonds.

A finales de los 60, el movimiento hippie estaba en alza y la banda lo había abrazado ya en su estilo de vida y en su música, componiendo canciones como I'm the Walrus que publicarían semanas después de lanzar este disco. Decidieron entonces crear una banda ficticia bajo los preceptos de la psicodelia, llamada en español la banda del club de los corazones solitarios del sargento Pepper.

Además, este trabajo de diseño se ha relacionado con la muerte antes. Una teoría de la conspiración asegura desde hace décadas que Paul McCartney murió en un accidente de tráfico en los 60 y que desde entonces un doble ha ocupado su lugar (asumiendo que su talento musical es fácilmente imitable).

Algunos quieren ver en la imagen la escenificación del entierro del cantante y bajista. Por ejemplo, la postura del beatle mirando al frente es distinta de la del resto de sus compañeros, que se encuentran rodeando su cuerpo, ladeados. En la zona de la tierra hay una corona de flores en forma de bajo.